Home
-»
Tibet Places to Visit -»
Gyantse
Gyantse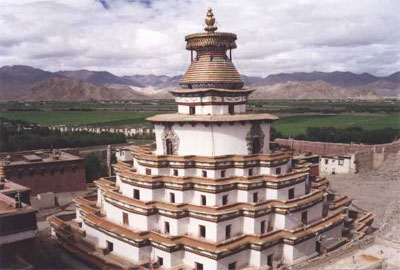 Gyantse, some 200km (124mi) southwest of Lhasa, is one of the least Chinese-influenced towns in Tibet and is worth a visit for this reason alone. The Palkhor Monastery here was built in 1427 and is notable for its superb Kumbum (10,000 images) stupa. The dzong (old fort) that towers above the village offers a fine view over the valley. Gyantse is a four-hour bus ride from Shigatse.
Palkhor Monastery, also name Palcho Monastery is very different with other monasteries. It lies about 230 kilometers (143 miles) south of Lhasa and 100 (62 miles) east of Shigatse, at the foot of the Dzong Hill. As a typical fifteenth Tibetan monastery, its structural style is very unique.
Tshomchen, the Main Assembly Hall of Palkhor was built between the end of fourteenth century and the beginning of the fifteenth century, with thangkas of different styles hung all around. The ground floor of the three-story building is a Chanting Hall with 48 columns, which are decorated with old silk thangkas. A bronze statuary of Maitreya is eight meters high (26 feet). The gilded figure cost 1.4 tons (3086 pounds) bronze. On the second floor, Bodhisattva Manjushri and Arhats, from the Ming dynasty (1368-1644), were enshrined in the chapels. Its Arhat Chapel is famous throughout Tibet. On the top roof floor, a chapel houses a collection of 15 mandala murals, which are three meters (ten feet) in diameter and enjoys a good reputation. Additionally, the monastery collects about 100 robes and costumes worn in Tibetan opera, which were all made of silk, embroidery and tapestry during the Ming dynasty (1368-1644) and the Qing dynasty (1644-1911).
The monastery houses monks from Gelugpa, Sakyapa and Kahdampa order. It is very strange that they eventually got along with each other although they quarreled and fought. The monastery is the only monastery that houses monks from different orders in harmony. As a result, its structural style, deities enshrined and murals are very special.
Palkhor also features its Bodhi stupa, or Kumbum in Tibetan, which was built in 1412 and completed 10 years later. Deemed as the symbol of the monastery, the spectacular stupa consists of hundreds of chapels in layers, housing about a hundred thousand images of Buddhas, Bodhisattvas, Vajras, Dharma Kings, Arhats, Disciples and great adepts of different orders in Tibetan Buddhist history, and outstanding figures in Tibetan history such as Songtsen Gampo and Trisong Detsen, including about 3,000 statues, so it is called Myriad Buddhas Stupa. Covering a space of 2,200 square meters, the stupa has totally 108 gates and 77 chapels, each of which has a dominant religious figure and murals. The cylinder, 20 meters in diameter, has four chapels inside. The elegant structure is worthy of a visit.
Send Online Query