Home
-»
Tibet Places to Visit -»
Lhasa River
Lhasa River
Best time to go: From July to Auguest
It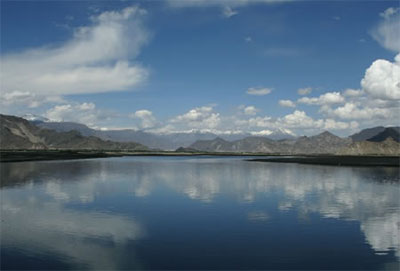 is the capital of the Tibet Autonomous Region. Because it is bathed in brilliant sunlight, it is often called the City of Sun. Lhasa has moderate temperatures in summer, and although winters can be very cold, they are also sunny and dry.
Lhasa, the heart and soul of Tibet and an object of devout pilgrimage, is still a city of wonders. The Potala, a vast white and ochre fortress, dominates the Lhasa skyline. Potala Palace,the landmark of Lhasa. The Jokhang temple, 2km (1.2mi) to the east, is the spiritual heart of the city. Barkhore Street is full of fun and surprise. The medieval push and shove of crowds, the street performers, the stalls hawking everything from prayer flags to jewel-encrusted yak skulls, and the devout tapping their foreheads to the ground at every step is an exotic brew that few newcomers can resist.
D1: Arriving at Lhasa Gongar Airport from Kathamandu or Chengdu, met and transferred to Lhasa city, you will visit the Stone Giant Buddha. Check in the hotel (3 stars), taking rest in the afternoon for high altitude. At about 16:00, drive to visit Tibet Museum to get a bird eye-view at Tibet Cultural and history.
D2: Getting up at about 8:00 am, after using breakfast, drive to visit the wonder of the world-Potala Palace. Finish sightseeing at about 12:30, after having lunch outside drive back to the hotel to take a rest. About 15:00, drive to visit Jokhang Temple-the most famous and oldest building in Lhasa, then visit Barkhore Street, the business center of Lhasa. The whole day visiting will finish at about 18:00, taking dinner and having rest afterwhile.
D3: Getting up at about 8:00am, drive to Trupeng Hill to visit Trupeng Monastery which is one of four great Gelugpa monasteries in Tibet. After sightseeing about 12:30, drive back to Lhasa and take rest afterwhile. Drive to visit Norbu Lingka - the Summer Palace for Dailai Lama. The farewell dinner will be arranged at the Typical Tibetan restaurant to enjoy the local food with Tibetan dance and song show.
D4: Transferred to the airport and fly out. End of the trip.
Send Online Query